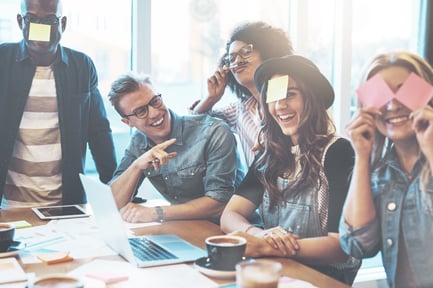 I'm sure we all remember the day where we found out that Google had a slide in their office and a free cafeteria. I'm even more sure that we all wished we could work at Google. We're hearing more and more about progressive office places taking over, but creating a positive mindset at work can be much simpler than rock-climbing walls and rooftop mini-put. Here are a few things that can be implemented in the short-term to boost morale, and increase positivity at the workplace.
1. Feedback
Feedback is crucial in developing a positive relationship with employees. It is important to be open, honest and transparent with your employees. If a spouse or friend is doing something you like, or dislike, odds are you'd tell them. Relationships with employees should be held to the same standard. Both negative and positive feedback aids in boosting morale and improving overall performance. It helps employees to take risks and continue their development. It eliminates self-doubt and opens room for employee feedback as well.
2. Show Gratitude
A little gratitude goes a long way. Gratitude breeds happiness and positivity. Let people know you are grateful for them, and appreciate their work. Saying "thank-you" never goes unnoticed. It lets people know that their job is valued and work is meaningful.
3. Celebrate
Birthdays, anniversaries, big wins, little wins and "just because it Friday." If you have a reason to celebrate, do it! It gives employees incentive, boosts morale and livens up the office. It's a great way for the office to connect and share what they're up to both in the office and out. Celebrations give employees something to look forward to and a reason to work harder if they know their achievements will be celebrated.
4. Encourage Fun
So long as the jobs are getting done, people should be having fun at work. Creating an environment where people wake up and enjoy going to work is a great way to motivate employees and increase productivity. It could be as little as playing music and sprucing up the office with some plants and décor. Couches, warm lighting and a cozy kitchen that people can work from to give them a change of scenery throughout the day are the little things that can really boost moods.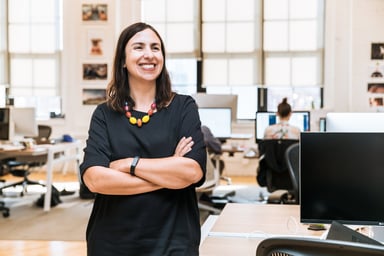 Take it a step further and schedule fun in the office. Book a non-work-related meeting here and there to allow employees to chat or play a game with colleagues. Make the last Thursday of the month "Thirsty Thursday." Leave the office a little early and head to a restaurant down the street to toast making your monthly goals, or even just for trying.
If your company is extremely serious about fun, have a Fun Committee in charge of coming up with new ideas to liven up the work place. Incorporate a strong work-life balance in the office. Happy employees work harder so if the job is getting done then mix in a little fun. You'll see the benefits.
5. Offer Flexibility
Creating a work life balance has been proven to increase performance. People have lives outside of work and sometimes 9-5 just doesn't suit their schedule. Allowing employees to shift their 8 hours to a timeframe that suits them will help to improve that balance. Whether is dropping off or picking up the kids, hitting the gym, or making the time to cook a romantic dinner with their spouse it will be sure to boost their happiness and gratitude for their job.
6. Development Opportunities
It is important for retention to keep employees engaged and continue improving their skills and furthering their development. Conferences, courses and supporting employees throughout school are all viable options in expanding their skills. Some companies will also plan Lunch & Learns. These are 30-60-minute sessions done during work hours, where food is brought in and a course is taught. It can be done through a third party or it could be an employee sharing something they are passionate about. Either way, I don't think anyone is saying no to lunch.
It is also important to support employees in their personal goals and development. Nothing boosts morale more than supporting a side hustle. Having your e
mployees set goals and helping them accomplish them makes the employee feel more valued than you'll know. Some companies go above and beyond to "Goal Fund" select employees. If an employee has a huge goal, why not help them get there.
7. Benefits
It has been proven that there is a correlation between physical health, mental health and performance. Encouraging physical fitness is a great way to keep employees happy, healthy and motivated. If your office has the room you can offer group classes before or after work, or even having a cozy gym onsite. If your office or work environment doesn't support this you can offer discounts to gyms, or even a paid for membership. Come up with fun ways for encouraging employees to use these benefits more (challenges, prizes, sweat-dates, etc.).
8. Define a Common Language & Standards
Having everyone on the same page and speaking the same language creates cohesiveness. It helps in the understanding of common values and standards and keeps everything within the company consistent. Coaching everyone on the "language," values and beliefs will help in creating fluidity in the company.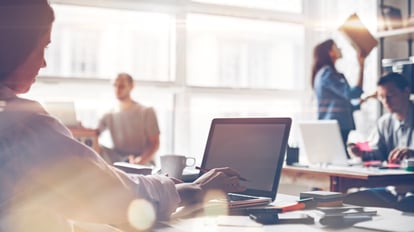 9. Lead by Example
Values and culture are shaped around how a leader acts. Strong leaders create strong work cultures. Practicing what you preach is a great way to motivate employees without even trying.
10. Treat People Well
Hire character, not skill. Ensure that person is a good fit for the company. Be sure that they embody the values and can live up to the culture. The skills can be taught from there. From there, get to know your employees. Let them know they've joined a cohesive team who share the same values. You should be able to trust your employees. Give them the freedom to make mistakes, and learn from them. Let them take in-the-moment risks and chances, it could lead to great things.
At the end of the day, your employees are human beings, not robots. When they love the environment, they will be more productive and motivated to get the work done. They will be results driven and passionate about making a difference in the company.