You might work nine to five, the night shift, or a myriad of hours in between, but you probably struggle fitting in everything you need to do in a day. Over the winter period, you might have noticed an insurgence of digital assistants such as the Google Home and Amazon Alexa. It's a sign of the times that technology is undoubtedly trying to assist us in every way possible and thousands of apps out there that can help you with your daily needs. The balance of work and home life can be a struggle, but there are many apps that can make your colleagues more productive before, during, and after work.
Here is a list of some of the top work productivity apps that can help you and your company improve work-life balance and ultimately, become more productive at work. Improve productivity with these apps!
Productivity before work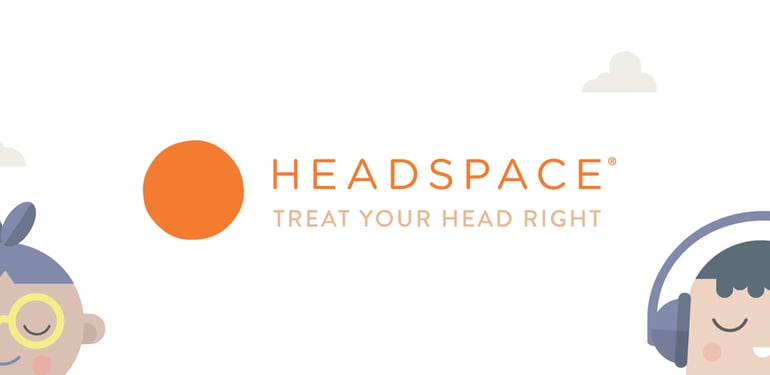 Work can be stressful and rushed in the mornings, especially with an early start. Adding a bit of meditation to your morning routine can be a helpful way to curb this stress. Headspace is a guided meditation app that leads you through various meditation programs for a few minutes a day.
Benefits:
Short meditation options for a morning commute
New techniques and visualizations for each day of meditation
As few as 10 sessions are proven to make you more productive and happier
The app gives you a "fresh start" in the morning
Business packages are available for your whole team to de-stress
Devices: IOS, Android
Free Trial: 10-days - free basics package
Cost: CAD 12.99/month or $7.92/month when paid per year – Options for Businesses are available
An app to start your morning by tackling your lengthy to-do list circling in your head. Focuslist allows you to plan out your day using the Pomodoro technique (25-minutes to focus on your task, followed by a 5-minute break, then start a new 25-minute cycle). By breaking down the time spent on each task, you will be more efficient and productive at work.
Benefits:
Allows you to set the amount of time spent on each task – this makes your more efficient.
Stores your data across devices – from your Mac to iPhone to Apple Watch, you can check your progress and track how accurate your time estimates were.
Determine your priorities – While keeping you focused using the Pomodoro technique, Focuslistforces you to prioritize your tasks so you can mentally prepare for your projects of the day.
Devices: IOS, Mac Desktop
Free Trial: No
Cost: CAD 6.99 one-time fee
At the office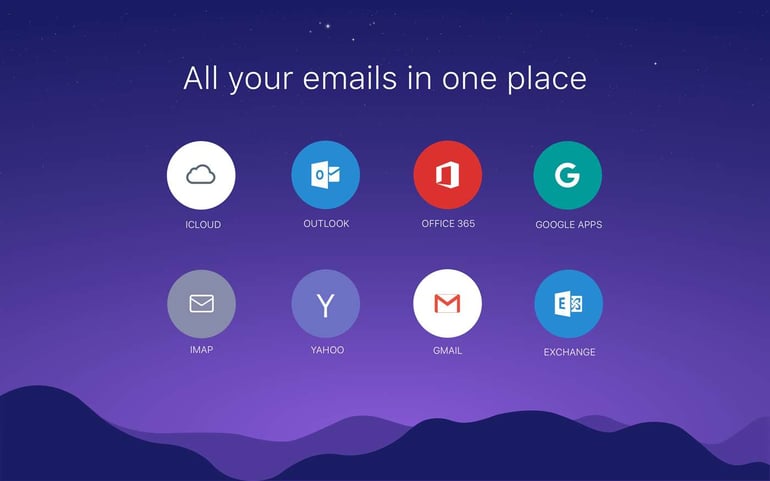 The ultimate email & calendar organizer. This app seamlessly pulls together your various email accounts and calendars to efficiently display everything on one app. With features such as read receipts, send-later, and the ability to "snooze" your email, there are many options to not only ensure your emails are being read and received at the right time, but also allows for a time to "turn off" beyond your working hours.
Benefits:
Puts all your emails in one place
Tidy inbox - Newton can weed out newsletters and social media updates and puts them into one folder so you can focus on your priorities.
Put the snooze on select emails - Newton allows you to snooze emails so you can schedule when to respond to the email. For example, if you receive an email on your phone while at home, but will need to respond toyour desktop you can "send to desktop." The email will temporarily disappear from your inbox and return when you log in to your desktop at work.
Connection to other apps - it can be a hassle to switch back and forth from emails and to-do lists. Newton allows you to connect various to-do list apps such as Evernote or Asana so that your notes will show up right in the app.
No more email errors - have you sent an email to the wrong person or sent an unfinished email by mistake? Newton has an undo 'send' option that allows you to reverse your mistake quickly.
Devices: IOS, Android, Desktop
Free Trial: Yes, 14 days
Cost: $49.99/year USD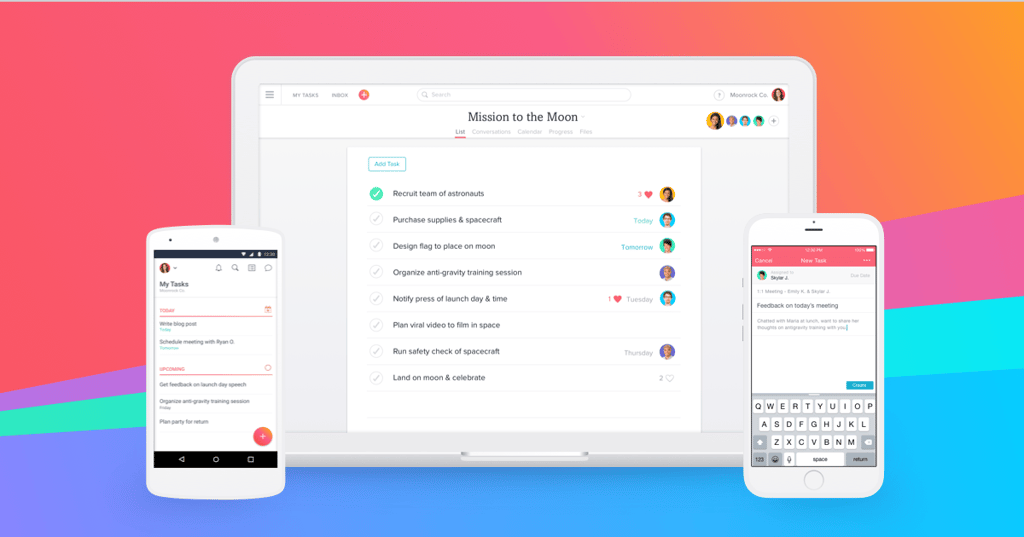 An app for the team player. The app is the ultimate way to track your team's progress, and tasks at hand. With Asana, every team member receives an account, and you can invite them to join your team. This allows all team members to create their tasks and assigns tasks to the team.
Benefits:
Streamlined workflow – allows for your team to break down lofty goals team by team, employee by employee.
Generate progress reports – The app allows every employee to keep track of their tasks and share documents without using email.
No more missed updates –You can leave comments and share work with one another. This ensures every employee is up to date with all feedback.
Permissions and control – As the leader of your team, you can assign who does what, and assign roles such as member or manager of your team for various tasks.
Get your projects completed! With notifications and email updates, Asana will make sure your team is on track to achieve its projects.
Devices: IOS, Android, Desktop
Free Trial: Free for teams up to 15
Cost: Premium plan starts at USD 9.99 per member per month, but may be reduced for larger organizations. An Enterprise Plan may also be negotiated for more control - contact Asana for a quote.
On the commute home

Want to read a popular book on your commute home, but don't have enough time to finish it? The Blinkist app quickly summarizes favourite books in 15 minutes! Now you're ready for every book club.
Benefits:
Grow your professional skills – keep up to date on industry techniques and research with the latest books in your field.
Leadership – learn new skills and leadership techniques from thousands of books at your figure tips.
Broaden your mind – After a long day, learning about a new subject or topic can be the perfect way to find a new hobby or interest in your life.
Devices: IOS, Android
Free Trial: Yes, 30 days
Cost: Limited features for free. $12.99/month for the Plus option or $79.99/year for the Premium option.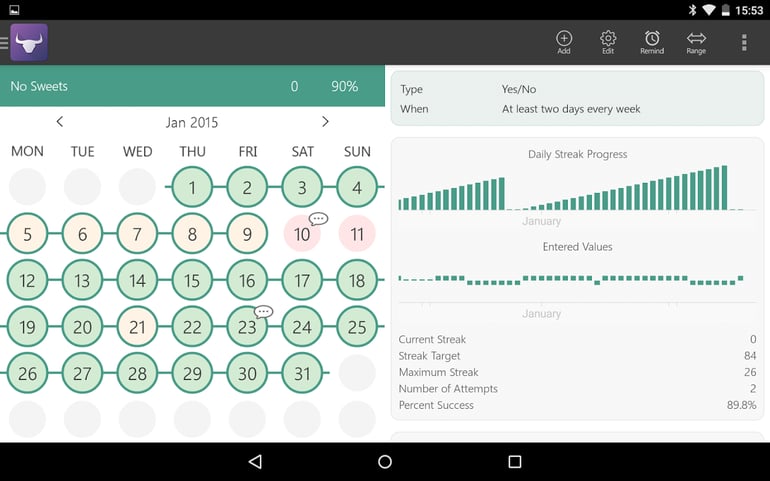 Do you have a new habit you want to keep for 2018? Habit Bull helps you track your yearly goals and habits using a convenient tracking interface. With the app, you can add a number to your habits, or date for keeping your habit to ensure you maintain your goals.
Benefits:
Maintain a balanced lifestyle – You might have a new goal to bike to work 3 times a week, to fit in more exercise. The app keeps track of your progress to ensure you keep the work-life balance in check.
Review your day – Reflection is vital at the end of every workday. You might have some work-related habits you wish to maintain. This app allows you to review your work goals at the end of every day.
Devices: IOS, Android
Free Trial: This app has a free option
Cost: The premium version is $4 allowing you to track up to 100 habits.