Better safe than sorry is a moto we like to live by, especially when dealing with one of the most dangerous industries in Canada. Construction is not an easy job and there are many precautions that should be taken to reduce the risk of injuries and ensure safety on the jobsite. One major factor in reducing injuries is the safety supplies used on site. Personal Protective Equipment (PPE) is non-negotiable and could wind up being a life saver:
Safety Glasses & Goggles
Vision loss is one of the most common injuries within the construction industry. When you're surrounded by dust, debris, nails, glass, and power tools it is important to protect your eyes. Even the smallest particle can lead to severe damage. It is important to not only wear protection, but also pick the right style for your line of work. Work with your foreman or supervisor to ensure that the right protection is being used on site.
Find some safety glasses & goggles here.
Masks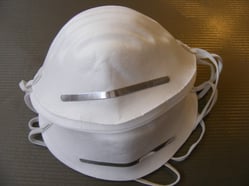 Speaking of dust and debris, another important factor to consider when using protective equipment is respiratory health. Construction workers are exposed to a great deal of hazardous substances and different masks will be able to serve different functions. Like eyewear protection, it is important to figure out which type will best suit your needs.
Get your masks here.
Ear Protection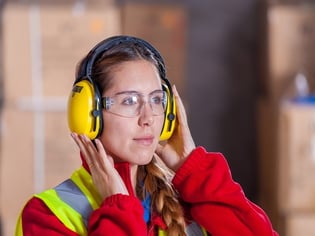 In addition to vision loss, hearing loss is also up there on the list of most common injuries. It is important that you stay in constant communication with co-workers, but also drown out enough noise to avoid permanent damage. Since hearing loss is gradual, mandatory hearing tests are done annually and kept on record. This will also help to ensure that the proper hearing protection is being used and will indicate any additions or modifications that can to be made to the current system.
An example of ear protection gear.
High Visibility Clothing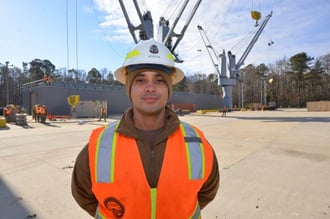 There's no shortage of vehicles on the job site and making yourself visible is crucial. Construction is a fast-paced environment and being easily spotted can reduce the risk of accidents.
Find high visibility clothing here.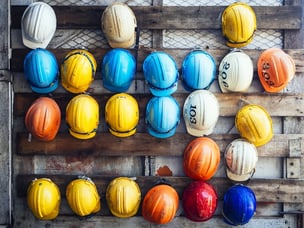 Headgear
Protecting your head is easily one of the most important things you can do on any jobsite. When working on a construction site, you are surrounded by vehicles, obstacles and confined spaces. Ensure the size is well adjusted and don't forget that they can save your life.
There are many things you can do on the job to prevent accidents and injuries, and PPE is one of the most important. Most of this gear will be provided by your employer, but its up to you to wear it. Be safe!